Flaon is a Fire-type Pokémon. It evolves into
Manleon
at level 16 and into Furyon at level 36. It is one of the starter Pokémon of
Pokémon Chaos Black
. It is No. 004 on the Pokédex. It is classified as the Mane Pokémon. Ever since its birth, it would have a flame on its tail. If it goes out, Flaon would die.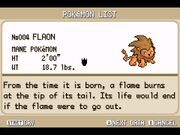 Physical Appearance
Edit
Color: Orange (Body), Brown (Mane)
Height: 2' 00"
Weight: 18.7 lbs.
Type: Fire
Front: Visible
Back: Visible
This Pokémon does not exist anywhere else. This is the only one left in existence.
Move set
Edit
| Lv. | Move |
| --- | --- |
| 1 | Scratch |
| 1 | Growl |
| 7 | Ember |
Gender Ratio
Edit
87.5% male, 12.5% female.
Ad blocker interference detected!
Wikia is a free-to-use site that makes money from advertising. We have a modified experience for viewers using ad blockers

Wikia is not accessible if you've made further modifications. Remove the custom ad blocker rule(s) and the page will load as expected.